Teddy Bear Helps Autistic Boy
For many babies and children, the teddy bear plays a large role in their lives. They provide comfort and security in the form of a soft and snuggly bear that they often take everywhere. This is just the case for a young boy named Lucas Hoffart and his teddy bear, who have become social media sensations.
Lucas is a 2 year old Canadian boy with autism who spends every waking hour with his teddy bear. Like many young children, Lucas relies on his teddy for safety and security in times of distress. The duo became social media sensations recently when Lucas' bear went missing and his mother, Jessica, took to Twitter to call for help in finding it. Jessica set up a Twitter account called "Let's Find Teddy" which quickly gained attention around the family's hometown and, according to an article written by Today, a local news station picked up the story and broadcast it. In a matter of days, Lucas was reunited with his teddy thanks to the efforts of a Good Samaritan. Lucas' mother Jessica told Today that Lucas was overjoyed upon being reunited with his bear.
"He was jumping and skipping with how happy he was. He grabbed the bear and hugged the bear and put the bear near his face…I have no words to tell you how surprised and how happy I am with all the response."
After a few rough days, Lucas and his teddy bear were back together again and everything was right in the world. The "Let's Find Teddy" Twitter account posted this picture a couple of days ago to show the dynamic duo back together again:
Back to sleep time routine!! ?? #weFoundTeddy #BearIsHome #LucasAndBear pic.twitter.com/kpEhI88TAL

— Let's Find Teddy (@Letsfindteddy) October 12, 2016
Find a Bear for You
This story is a touching reminder of how important teddy bears can be to young children as they are growing and experiencing new things. If you have a young child, or know someone who is expecting, consider giving the gift of an adorable companion.
Here at 800Bear we have a wide variety of personalized teddy bears available that are sure to be a gift that is cherished for years to come.
We've got everything from licensed plush figures:
And personalized teddy bears for newborns:
To unique bears that you can customize for any occasion and recipient:
The power of the connection between a child and their teddy bear is often overlooked, but this bond is important and unbreakable. Just look at Lucas for example, a boy whose teddy is so ingrained in his every action. Giving a child the gift of a teddy bear is giving them more than just a plush doll, it's giving them a buddy. A life vest. A comrade. So when the holiday season rolls around, or when a loved one welcomes a child into the world, or for no particular reason at all; consider personalized bears as a gift idea.
To find a great selection of personalized bears for any occasion, be sure to visit 800Bear.com or call us toll free at 1-800-800-BEAR (2327)
Reference: Holohan, M. (2016, October 14). Reunited! Boy with autism finds his lost bear, thanks to Twitter and strangers. Retrieved October 21, 2016, from http://www.today.com/parents/boy-autism-finds-lost-teddy-bear-thanks-twitter-t103921

Every night, millions of kids around the world snuggle up with their Teddy Bear when they head off to bed. This is because Teddy bears have been the trusty companions of children for generations. But, have you ever wondered where the Teddy bear originated?
The Story
You may be surprised to learn that the story of the Teddy bear is one with some historical significance. The "Teddy" from Teddy bear actually comes from the nickname for Theodore Roosevelt, the 26th President of the United States. As the story goes, President Roosevelt was out on a hunting trip with a group of people but was having very little luck with his shooting. In an effort to help boost the President's morale, one of his assistants trapped a black bear and tied it to a tree. Rather than shooting the bear on the spot, his assistant waited for the President to get there so that the President could take responsibility. Upon his arrival, Teddy refused to shoot the bear. News of this merciful act spread quickly and a cartoon depicting the incident appeared in the Washington Post. Although the actual bear from the story was a full sized adult, the cartoon portrayed it as a cute little bear cub. Seeing this cartoon, a candy shop owner from New York named Morris Michtom stitched together a plush bear and named it "Teddy's Bear".
After receiving permission from President Roosevelt to continue using this name, Michtom went on to mass produce the Teddy Bear and the rest is history. Since this inception, Teddy bears have grown to become one of the most recognized children's toys of all time. From birthdays, to Christmas, to a stay in the hospital; the gift of a Teddy bear is one that works for many occasions.
Here are some of our favorite bears for every occasion: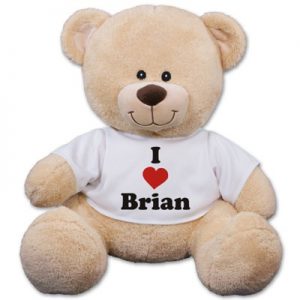 Show your sweetie pie how much you really love them this Valentine's Day with a cute bear! Our Personalized I Love You Teddy Bear is an adorable way to display your love.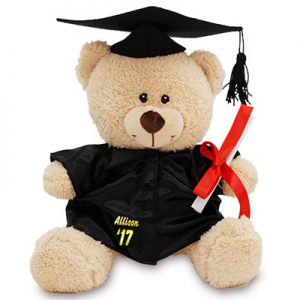 You're never too old for a Teddy bear, that's why this Graduation Cap and Gown Teddy Bear is perfect for any recent graduate. Personalize with any name and graduation year for a truly unique gift.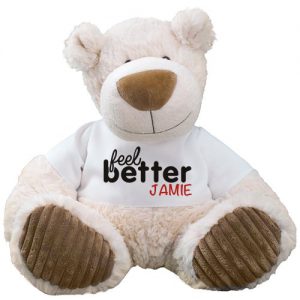 This big fluffy Teddy bear is sure to lift the spirits of anyone in need. With a personalized t-shirt, our custom Latte bear will put a smile on everyone's face.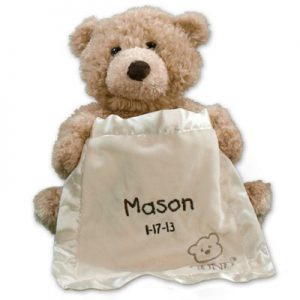 There's no better way to welcome your newborn baby into the world than a cuddly Teddy bear. This personalized Peek-A-Boo bear holds a soft blanket and says phrases like "Peek-a-boo, I see you".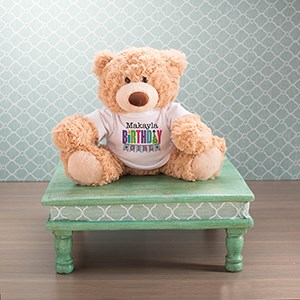 Say "Happy Birthday" in a memorable way this year with a personalized Teddy bear! This Coco Girl bear is made of a super soft minky fabric and wears a festive birthday t-shirt.