Every night, millions of kids around the world snuggle up with their Teddy Bear when they head off to bed. This is because Teddy bears have been the trusty companions of children for generations. But, have you ever wondered where the Teddy bear originated?
The Story
You may be surprised to learn that the story of the Teddy bear is one with some historical significance. The "Teddy" from Teddy bear actually comes from the nickname for Theodore Roosevelt, the 26th President of the United States. As the story goes, President Roosevelt was out on a hunting trip with a group of people but was having very little luck with his shooting. In an effort to help boost the President's morale, one of his assistants trapped a black bear and tied it to a tree. Rather than shooting the bear on the spot, his assistant waited for the President to get there so that the President could take responsibility. Upon his arrival, Teddy refused to shoot the bear. News of this merciful act spread quickly and a cartoon depicting the incident appeared in the Washington Post. Although the actual bear from the story was a full sized adult, the cartoon portrayed it as a cute little bear cub. Seeing this cartoon, a candy shop owner from New York named Morris Michtom stitched together a plush bear and named it "Teddy's Bear".
After receiving permission from President Roosevelt to continue using this name, Michtom went on to mass produce the Teddy Bear and the rest is history. Since this inception, Teddy bears have grown to become one of the most recognized children's toys of all time. From birthdays, to Christmas, to a stay in the hospital; the gift of a Teddy bear is one that works for many occasions.
Here are some of our favorite bears for every occasion: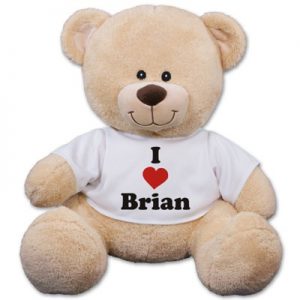 Show your sweetie pie how much you really love them this Valentine's Day with a cute bear! Our Personalized I Love You Teddy Bear is an adorable way to display your love.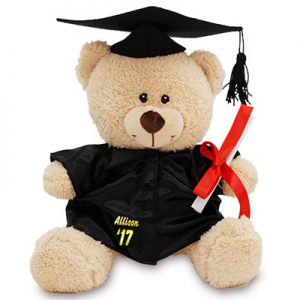 You're never too old for a Teddy bear, that's why this Graduation Cap and Gown Teddy Bear is perfect for any recent graduate. Personalize with any name and graduation year for a truly unique gift.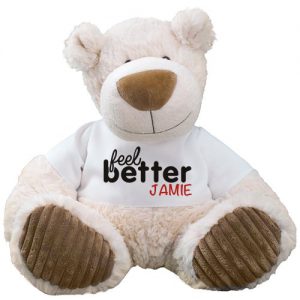 This big fluffy Teddy bear is sure to lift the spirits of anyone in need. With a personalized t-shirt, our custom Latte bear will put a smile on everyone's face.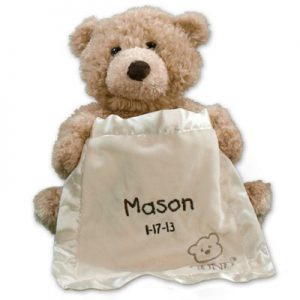 There's no better way to welcome your newborn baby into the world than a cuddly Teddy bear. This personalized Peek-A-Boo bear holds a soft blanket and says phrases like "Peek-a-boo, I see you".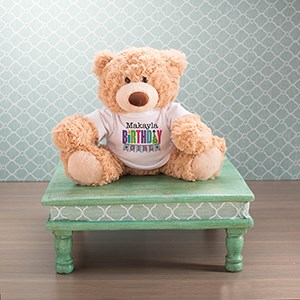 Say "Happy Birthday" in a memorable way this year with a personalized Teddy bear! This Coco Girl bear is made of a super soft minky fabric and wears a festive birthday t-shirt.